I met Devon on my walk in the woods this morning.
She and her dog Marshmallow, came up behind me as I was taking a picture of this pond.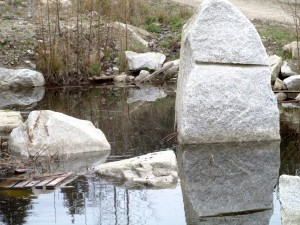 Like me, she had a whistle around her neck, and our talk turned to walking in the woods with bears and such.
She said walking with a dog gives her some comfort and more courage. I asked her about the cougars and she answered ….
"The bears are one thing,  but if you run into a cougar, well, that's just your fate."
That gave me some comfort.