New Mexico is known as The Land of Enchantment.
It truly is.
Sechelt is a beautiful place and we love living there, but where we are now, is just as pretty in the totally opposite way.
Dry, brown, super blue sky, puffy white clouds, and vistas as far as the eye can see. I love this high mountain desert.
Yet, as lovely as it is here, and as good as it is to see my brothers and friends; the best reason to be here is for the food.
Hatches green chile is like no other in the universe and it just doesn't grow in other places.
I am a fan of food – I'm not a foodie, but I do like to eat and while we are here, we will eat green chile everyday. If I have my way (which I usually do) we will eat it at every meal as well.
I wish I could add a scratch and sniff or somehow put a taste and enjoy sample on these pages. It would be a delight to watch people taste it and understand the hoopla.
All I can say is when in New Mexico, it doesn't matter if you are eating a taco, burrito or enchilada, they are talking abut the chile when they ask if you want red, green or Christmas.*
Personally I get it smothered in green!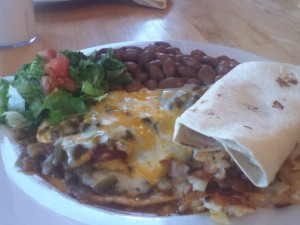 *a combo of both.