Today is Thanksgiving, and I admit that even after 17 years, I have the hardest time getting into "this" holiday. Don't get me wrong, most holidays are hard for me to get into, but Thanksgiving in October is just weird. I do love a turkey dinner with all the trimmings, but up here (and maybe elsewhere except Hawaii), turkeys cost about $85.00! Sorry – I'm just not that great a cook to risk that much of a nice dinner!
I did pick up a chunk of ham from the butcher yesterday and today I soaked it in pineapple juice and baked it for a few hours and Ken and I ate it. I said I wasn't going to cook after sticking a knife in my palm the other day while chopping carrots, but, Thanksgiving got me and I wanted to participate.
It's a beautiful day so after we ate, I went to the driving range and shot a bucket of golfs.
Now, I'm all about practice. I've always said, if you want to get good at Tai chi, play Tai Chi. If you want to get good at swimming — swim, skiing — ski. If you want to get good at any particular skill, practice that skill over and over, and if you want to get good at golf… well, I don't know what the hell to do! It seems, I can whack and whack balls but, I actually just feel lucky, when one goes where I hoped!
Still today, I will boast that out of an entire bucket of ball, only four of them went into the woods, I had two swings where I completely missed the balls, and just three kind of rolled off the tee and dribbled out in front of me. But the rest — (and there were a lot) went beautifully down the middle of the range and provided that golf satisfaction, golfers seek. Pretty shots, or as Mike Ryan told me in New Mexico, when I played my first game of golf ever, "You've got good wood."
Speaking of my first golf game ever… I played 9 holes last week as one of the activities at our 40th class reunion and it was better than joining in the 5 km run or the tennis tournament, but it was also a bit torturous.
Thankfully, we played best ball, there were four people on our team, plus two friends, Betty and Darlene, who walked with us and helped find lost balls. (They had their work cut out for them) On my team was old friend Mike Clevenger (who drives the cart much better than he golfs), Hector Hinijosa, and Mike Ryan. Hector and Mike Ryan play golf well and suffered great generosity teaming up with me and the other Mike.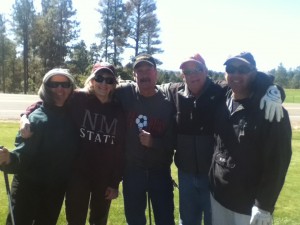 Four holes in, Hector announced he would only be playing 9 holes. We were all grateful he called it, as those silly 9 holes took three hours to complete! I swear I don't know how we could have played any faster!
I think I'll stick to the driving range!
Oh and just because Sandie will read this and she can tell Joe, who happens to be a great golfer, that for the record, during our best ball game — two of the balls I hit during those long nine holes, were deemed the "best ball" of all we had to choose from!
Golf is hard — I think I need some more practice or some more luck!