Some stories start with, Once upon a time. My stories start with, Years ago.
Years ago, Ken and I were on the roof of our house in Eugene, Oregon.
It was a dark and stormy night. We had a bucket of tar, a flashlight, and in the pouring rain, we were looking for a hole in the roof. We needed to fix the leak, that was allowing rain to soak our kitchen floor.
I remember Ken, saying to me, "Stick with me Baby, I'l show you good times!"
Good times indeed.
Now, when I hear Ken say, "Jan, you are going to need your gloves." I know we're in for good times!
The 8 – 10 inches of snow that fell the last couple of days, has played havoc, on things we use to protect other things around here.
I'm glad Ken has been in the shop working on a new green house, because the one we have now, is what the Hawaiians call, Pau.*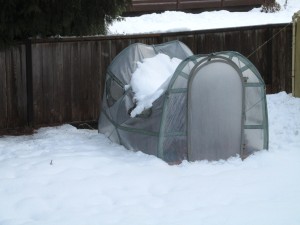 Same with the structure that is protecting our van.
Pau.
So, I knew when Ken asked me yesterday to, get my gloves, and added, "you'll need your boots," I knew we were in for good times!
I'm still sticking with Ken. Our good times are far from, Pau!
*Finished, done, gone.