For years I stayed away from the place now called, The Cape on Bowen.
I used to go there quite often, but back then it was called Cape Roger Curtis, 600 acres of exceptional beauty. It still is exceptional in its beauty, but now, The Cape is a sub-division for the super wealthy. There are now, 58 lots dividing that 600 acres with a selling price anywhere from 900,000. — 2.5 million, depending on the view.
And it really is the view that could make someone spend millions on a parcel of land.
I started walking the Cape a few months ago. I can leave from the house, take a fast or challenging walk, without much traffic. I also have the ability still to share the view that soon only the owners of said lots will enjoy.
Yesterday, I turned left when I usually turn right. I explored lot number 48, which is still for sale. I climbed up to where I imagine someone will one day build a house. I couldn't see the coast line, and thought to myself, this must be one of the cheap lots, there isn't much of a view.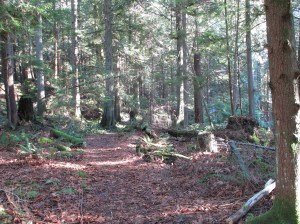 Then two eagles flew over my head through the trees that survived the developers plan. It was pretty. I took in the wonder and realize the view is what we see.