One reason I like quilts is that the many become one. Several pieces of fabric (sometimes hundreds) are cut into shapes, then sewn back together, creating one beautiful work of art.
The many become one.
My mom had a huge fabric stash when she died and over the years I have created several quilts from the many boxes of scraps I inherited.
Mom left me a lot of other stuff too. Besides the fabric stash there were a few collections, some nice and some silly. She also left some real crap as well as some pretty treasures.
I like shiny treasures. The problem is I don't wear that many shiny baubles, and most of these are put away in boxes and drawers.
Then my friend, AnnMarie told me about the extremely creative Hélène Bourget. I gave her a call, then I gave her moms baubles. Like a quilter with gems, Hélène took the many and made one extraordinary work of art.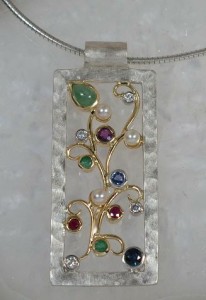 I am beyond thrilled.