I don't  think things happen for a reason. I think things happen.
I know we like to attach reason to the shit we don't understand. We get kicked in the gut with news, and to make it easier to understand or accept, we tell ourselves, or worse yet, others tell us, "everything happens for a reason."
I don't think so. Shit happens, good stuff and bad — cycle of life, you know. How we rearrange ourselves when we get thrown off course is not as imprtant as THAT we rearrange ourself. My practice is all about seeking comfort and finding my feet, head and heart —my equilibrium again and again. I need to practice because some of the things that happen in life, will take this push hands expert down to her knees.
Saying, "Things happen for a reason" is a nice way to buy time or catch a breath, when acceptance of the reality is just too hard.
Today marks the 9th anniversary of my mothers death. She didn't die for any good reason, she died by mistake. Mom had a heart attack a few days after her 75th birthday, she underwent heart bi-pass surgery, and died on the operating table. I will never know if it was an accident or if the doctor fucked up. Maybe mom panicked under anaesthesia and took the out. I do know she absolutely had no intention of dying on that day, in that way. Yet, she did.
I think it was a mistake, an accident — shit happens. And no matter what, mom is mom, and life without mom is the shits.
During the last nine years I've thought about my mother way more often than I did when she was alive. I've come to know her, to understand and to love her. I miss her very much.
On May 5th, every year since 2003, I say the same thing. And every year I say it with more acceptance and less regret. So, for the ninth year in a row, I'll say it again.
Knowing what I know today – I would have been a better daughter.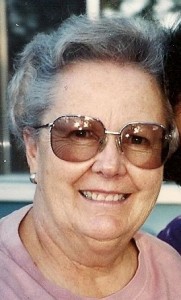 Alice Frances Chamber Hudson Del Dosso
Salute.