Everyone is asking.
No, I'm not going to Arizona to see Kim. I've thought about it a lot. I appreciate the support offered me and see how I could go. I've checked in with Lorin and I made the decision not to go now.
I have no regret. I'm in touch, and it feels like the right thing — right now. I can always change my mind.
In some ways this makes me think of being at my mothers funeral, and at least eight women came up to me and said, "Your mother was my best friend." At least eight, maybe even nine or ten!
When Jan Daly died, people came out of the wood work claiming best friend status. There was a weird "I'm sadder than you are" unsaid, strange, and underlying competition. It was super weird.
There was the same type of very strange competition at my moms funeral. We know Betty was mom's real best friend, and we know Linda was Jan Daly's. AND, we also know both women were loved by a lot of people.
That's a good thing.
Kim is also loved by a lot of people. She has three brothers and a sister, a son, a grandson, a husband, nieces, nephews, cousins, and a superabundance of friends, work friends, old friends, neighbours, and yes…. At least eight or nine, best friends. ☺
I am one of them.
She'd probably kill me for posting this picture of her here, but I'm doing it anyway. Her son Jason posted it on Facebook, and it got 128 "likes." It's in the world. She is getting attention and love. It makes me smile, and Jason said, she took a turn for the better this weekend.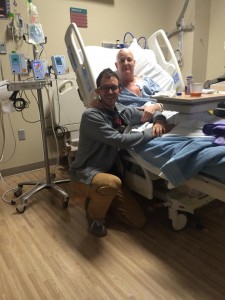 Love is what counts.