I made the decision last weekend to walk the 180 km long Sunshine Coast Trail. I'd like to do it sometime this summer.
I've wanted to do a big walk for quite a while. I know several friends who have walked across England or Spain, or trekked in India. None of those paths call me. The Coast Trail does.
The decision to do it is made, (gulp) now I need to figure out the many options I have to make it happen.
I could put on a big pack, (see the movie Wild), and hoof along until it is completed. This option is not my first choice. I'm a fraidy cat and do not want to camp out in the bush by myself.
I could hike one day at a time and ask Ken to meet me at the end of each day. Then I could sleep in my own bed each night. I could get off the trail at night and find a B&B. There are huts along the trail that I could sleep in. Possibly, Ken could meet me with the van, and I could rest and eat with him each night. I don't know what he would do during the days, he said he doesn't want to walk the trail with me. I'm fine with that.
I could do a combo, where I walk and camp for a couple of days, and then take a break, then pick up the trail again in a week or two, taking the entire summer.
I could do parts with a friend. • This appeals to me. (Any takers?)
I could do the entire thing alone. • This also appeals to me.
I have a few months to work out the details, gather more information, and get in shape for the walk, both mentally and physically, but I'm going for it.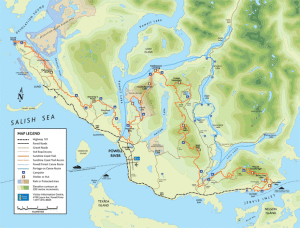 P.S. As with everything I ever say …. I reserve the right to change my mind, or say,  "April Fools!"