This morning out on the patio I looked at several of the flowers and plants in full bloom and I thought about the stories they hold.
The roses were given to me 10 years ago when my mom died by Tim. They are going strong.


The daisy bomb is serendipity.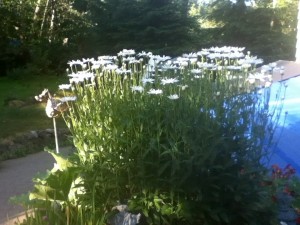 The heather came from Rosie, reminds me of heather Madras and Cricket used to get in the middle of it and rub her bum in it.


Sandie gave us lilacs when we fist moved into the house, but deer ate them. Once we had a fence, Ken surprised me with this for my birthday. We had a great bloom this year.


It doesn't take much for me to be reminded of the love in my life.
Now if Jim would only visit and take prettier photos of these for me!