Some of you know I got one of those Fitbit things.
It's changed my life. When I sync it up with my computer I can see how many steps I taken.
There are several walks I take and use to do them by time. Now I do them by steps!
The easy walk — the 20 minute one, the 40 minute one and the hour long one, now are 3,700 steps, 6,700 steps, 10,000 steps and on.
Now that I have this thing, I feel best when I take at least 10,000 steps every day. My best day I took 21,0000 plus. And, I admit to being pooped that day big time.
It is good to know that from my office to the kitchen and back is 114 steps! Finally a reason to have a big house.
Now, that NaNoWriMo is almost on us, I would love a Fitbit for words.
I use the Scrivener program on my computer for writing. I'm sure it has features I do not have a clue about, but the ones I use, I like. It has a cool way to organize writings for one, and of course spell check is a must. There is also a word count feature. For instance, as I type the word — word, I can see that the word count was 164 at the time I wrote it. Now, I'm up to 183 words. It is sort of like a fit bit. (Those numbers changed as I edited and rewrote stuff.)
What the Fitbit has, that Scrivener doesn't is, a compiling feature. The Fitbit shows my progress and steps taken at any given moment, and it also keeps track of my steps taken all day, as well as all week.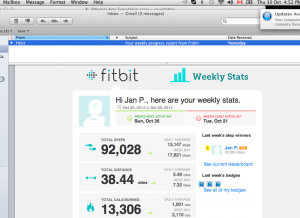 Scrivener doesn't send me an email on Tuesdays, letting me know the grand total of words I wrote all week. It's project specific.
The goal of NaNoWriMo is to write 50,000 words in the month of November. Getting a novel out would be a bonus, but for me, it's the opportunity to join a writing marathon, and challenge myself.
In order to make the goal of 50,000 words in the month, I need to write 1,667 words per day or, 1,923 words per day with 1 weekday off, or 2,000 words per day with 1 weekend day off. Basically, I just need to keep writing.
I'm going to give it a go…. With the caveat and knowledge that regular people change their behaviour to meet their goal, and addicts change their goals to match their behaviour.
Keeping track of the numbers helps me. It may even inspire me to keep going, and could help me meet my goal by changing my behaviour.
Would that make me a regular person?
FYI, this story is 467 words. Do regular people care?