We drove up to Abiquiu today. Stopped off at Ghost Ranch – took some photos, and then went to the Abiquiu library.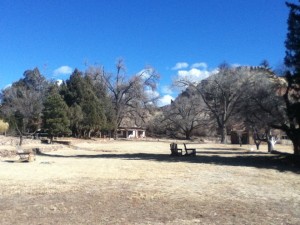 Dad has taken the library on up there as his pet project. He donates books, money and magazine subscriptions to them. Today was the first time he has been able to actually see the place.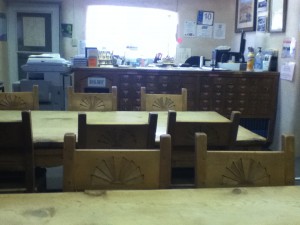 The village of Abiquiu is very small and filled with old adobe homes and buildings situated around a square. I wasn't sure of how to get there and when we ask, everyone answered, "It is just across from the church." Still I wanted a bit more detail so I googled the directions. Yep – even the map quest says, "The library is just across from the church!" I should have googled directions for the church.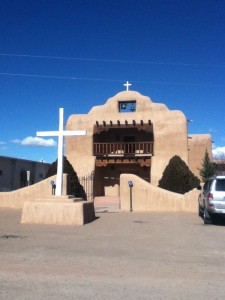 We found it easy — it was across from the church. They were happy to meet dad and he was happy to see his donations on the shelves.
Behind the church was a sign for the Cultural Center. On the door going in was a hand written sign that said, Be back soon. We went in; we were blown away at the collection of art and artifacts that filled the place. Ancient art from India and China, packed into two rooms. It was a bit surreal; a dusty little village with an incredible art collection from around the world. We never did see anyone, but took our time poking and prodding statues, pots, fabric and paintings that could've…would've… should've been in some big city.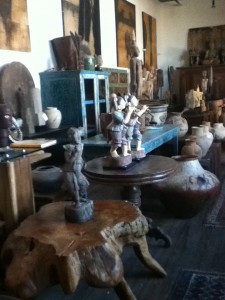 We ate lunch at the Abiquiu Inn and were the only customers. The trout tacos were so good and on the way back to Los Alamos we stopped just outside of Espanola. We sat in the sunshine and ate ice cream and enjoyed the view of Black Mesa.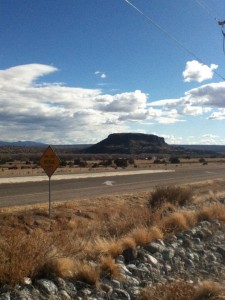 It was another blue sky warm day and a full day of what I call events.
Dad is in his chair now; tired but doing quite well. We have agreed to "rummage" for dinner as after a day like this — both of us are happily satiated and more would just be silly.
Oh and we also went to the Post Office!