It was nice. The Roughriders are just wonderful, but I don't have to tell you that. There were a few new folks and some that hadn't been around for a while. Several regular Roughriders weren't able to make it and they were very much missed!
I mostly coached, but am happy to discover that I still have a few teaching chops to share. 🙂
We worked mostly on staying comfortable in connection while upping the volume.
The talent show was lovely! Viola read us a story. Â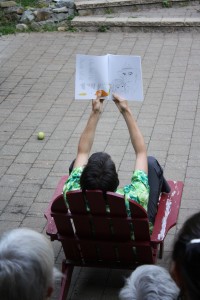 Sheila told a story and reminded us that there is nothing better than Summer Afternoon Naps! Dan played guitar and sang as Stephanie and Mo provided awesome backup.   
  Michelle gave a show and tell with her stain glass and fused glass work, Allyson preformed a kata, and Mo sang a song she sings at a camp she sponsors for abused kids each year. Ed brought several boxes of books to get rid of, uhm, I mean share… and I hate to say that even though I just cleared out most of my tai chi library, he hid a few around the house, and I'm still finding them!
Art brought up my latest quilt that his wife Jo quilted for me and it is beautiful. Really beautiful.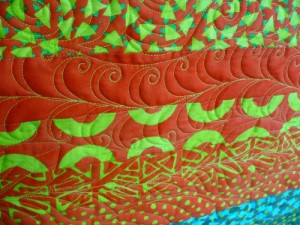 A new guy named Michael who has only been learning tai chi for 3 months was a pure delight to work with.
The weather was perfect. We had sun for most of it, rain for part, and we practiced all over the Bowen Island Tai Chi House. We trained in the field, training room and front yard when we needed shade.
The dedication and commitment of the Roughriders humbles me. Colin came out even though it was his 28th wedding anniversary. (Thank you Yvonne.) Erica traveled up here after only 12 hours at home after a week in MN. Kim hosted several people at her house even though her house is for sale and needs to stay in mint condition for the realtors. Allyson, Mo and Dan flew in from California and Oregon.
All and all it felt good to both teach and coach. Sheila and Erica were responsible for setting dates before everyone went away. (We'll meet again next February)
We have potluck leftovers in the fridge, and Ken told me today that, after two days with 14 people, we made a lot of compost, have some items to take to recycle, and produced only one very small bag of garbage.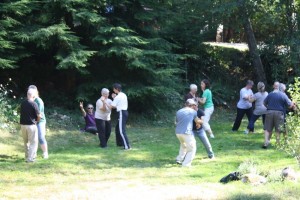 IÂ  want to say how much I respect all of you who come, play, and learn. What a cool group of people…your ideas, input &Â generosity astound and encourage me. Your support for me, and for each other is pretty astounding.
Thank you Roughriders. I salute you and am ready to do it again!