Happy Anniversary to me and Ken. 28 years of blissful marriage — which is really good considering we've been married for 31 years! Ha-Ha!
Seriously, 31 (all good) years. I can't believe it, where does the time go?
I admit with great gratitude that this union has been easy for us. Ken is a good man, I try to be a good woman.
I learned long ago that just because we are married, it doesn't mean we HAVE to love each other, (it is just easier if we do.) We also know for sure that we don't have to put up with nonsense. We know there are conditions to our being together, so we figured out that it was our job — our commitment, to be nice to each other. We knew we wanted our marriage to be good, so we are nice.
We are also honest, polite and on each others side in life. A sense of humour helps as well.
We don't "work" at a having a good marriage, that isn't the goal. Still, we are persistent in acknowledging that Ken and I are better people in this world when we are together, than we are a part.
So, sometimes when we are lying in bed, I look over at Ken and think, "I am so lucky." Then he start snoring in that snorty way, and I think, "Well, that's annoying, but I'm still lucky."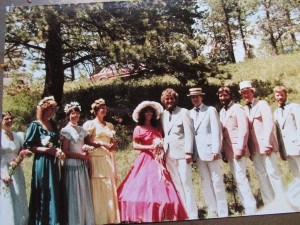 Happy Anniversary to us. We both got as good as we could! I couldn't imagine going through life with anyone else.