Call me Alice!
That's right — we went to a fabric sale yesterday and I did a little shopping.
Ken was a generous enabler as well. I did try to put a few things back, but he put them on the check out counter and said, "If there was a big sale on wood, you know I'd be stocking up."
Granted, we don't do the "tit for tat" thing when we shop, but we also don't say no to each other. We are lucky, we can afford to support our hobbies and well a sale is a sale!
Plus, on the advice of painting teacher, and friend extraordinaire, Jess Rice, who said, "Paint like a millionaire." The advice is hobby fluid.
Usually, when I buy fabric I get fat quarters — yesterday, I discovered Bali Knots!
I had never heard of them before — but now that I know — holy moly, ring a bell – I can't unknow and life is good!
Bail knots are scrap strips of batiks, that are discarded (at the distributor's warehouse) during the process of transferring batik fabric from HUGE rolls to smaller cardboard sleeves. A machine unrolls the fabric, and a worker supervises the process. When the worker comes upon a seam, they will cut and remove the seam and continue rolling the fabric.
The woman who owned the fabric store in Gibsons, bought these discarded strips, that 2 – 4 inches wide, and 44 inches long. She then mixed up the colours, gathered 12 – 14 strips, and tied them in a knot.
Bali knots!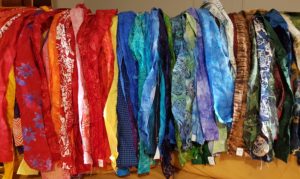 She used them for display in her store, and now that she's gone out of business, she was selling them for $8.95. a knot.
I came home with this delight of colour and spent yesterday pressing and sorting the fabric and loading up the bins in my stash!
Over the years, as I've culled and sewn through my moms hoard, and sometimes slowly, sometime quickly, built up my own stash of fabric. I see, that I favour batiks, and with the very small exception of fabric — pretty much all I hoard is sweet batik!
Starting a new project is fun and easy with a load of fabric on hand. My stash is organized the way I used to organize tai chi books, — by colour.
Since all the books I had at one time were all on the same topic, organizing them by the colour made perfect sense. And now that the majority of my fabric stash is pretty much all batiks – I'm happy to say, I've blue bin and red bin and yellow bin — you get the idea.
Life is good here in the Parker house.
I'm sewing like a millionaire!