It has taken me most of the day to write anything today. I thought about taking the day off, but I'm on a roll, so might as well keep going.
I thought about writing a story about me not going to China on this day in 1989. But that story has been told and is 25 years old.
Then I thought about writing about the mystery of the peony. I found one in full bloom yesterday in the training field. After 18 years and countless hours in that field — how and when did a peony get planted, and why is this the first year I've ever seen it?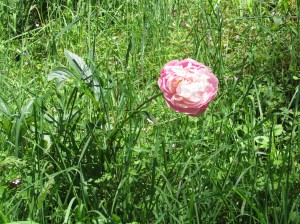 But, what I'm going to post is a book report. Right now, I am reading two books with the same title. I mean how often does that happen?
Book one, I read almost every morning. This is a large book with a white cover and a silly font. The author is in recovery and calls himself Joe C. I like this book a lot. It is a day by day book. Each day has a reading or a daily reflections and is directed at nonbelievers, and freethinkers, yet, excludes no one. Beyond Belief is an agnostics look at the 12 step life. Five stars.
Book number two has the same title, Beyond Belief. This paperback says it is by Susan Tive and Cami Ostman, but it has 26 stories written by 26 different women. This book is about the "secret lives of women in extreme religions". In the intro, the editors wanted to define what is meant by extreme. Now, for some people any religion is extreme, and for others, it's their normal, so they decided to let the women make the call themselves. The book is filled with stories by women who were either born into or joined, and they either stayed or left, different religions. I just started this book, so no star rating yet, but the first three stories…star, star, star.
As an atheist I am captivated by how and why people do what they do. These two books with the same title definitely have my interest.