We got in the van and went to the Sunshine Coast for two days. The Sunshine Coast is a region of the southern mainland coast of British Columbia, Canada, on the eastern shore of the Strait of Georgia, and just northwest of Greater Vancouver. You take a ferry to get to it. It is a beautiful ride.
We liked it.
We like Sechelt in particular. It is west coast pretty and had a good feel to it. We could checked all the boxes regarding the amenities we would like, and we can afford to live there. Of course we talked to one guy who was on a rant with the building inspectors and the clowns at city hall… I told him we would find all that stuff out later, but for now we needed to feel good about the place and I walked away from him.
Gord Clayton a realtor, drove us around and showed us about 10 houses. It took a few before we all narrowed down what we really mean when we say what we really want.
A view… I've always said it doesn't matter if it is a view of a field or a mountain or the ocean. To me a view is to see the horizon, to not have to crane my neck to see the sky. What we also figured out is when you live on the coast — you want a water view.
Gord showed us a few brand new houses. It was weird. Ken and I had to somehow talk ourselves into "having nice things." We saw a fixer up house with a killer view and realized, we'd rather have nice things than another house project.
We've just begun in earnest and now, we have a better idea of what is in front of us. I feel we have a lot of options, if and when things go through here. It sure feels better than the freak out I experienced last week. Plus, we ate great food at our friends restaurant, The Carrot and Bean, and we brought home Chilliwack sweet corn so that was good!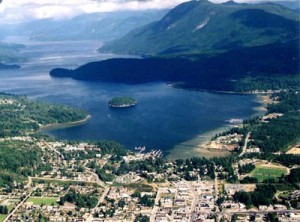 I got this photo off a web page and do not know who to credit.