Unlike Amy Winehouse, I always wanted to go to treatment for my addiction. But no one ever suggested it or offered it and I didn't think to go on my own. My experience was to get myself to a meeting and stay. Over the years I have been fortune to work inside a few centres and while I have always enjoyed the work, I never got to stay for the work they do… or for the fun they have!
Until yesterday! As I was leaving the O yesterday, on my way to the gym and looking for an excuse not to go, I saw tables displayed with incredible pieces of stone sculptures. The shapes were smooth, strong, and next to them all, a gentle man wearing a black apron and easy smile.
Then I saw small pieces of soapstone and a basket full of files and sandpaper. I asked if I could stay and join the group for the morning.
Master sculptor Delayne Corbett shared his experience, tools and his story (his work is incredible) and then we were all encouraged to carve a small piece of soapstone. When we were finished Delayne listened to the personal creation stories that were revealed in the process, and then graciously put the talisman on black twine for each us to wear around our necks.
I loved it! I loved Delayne and his thoughtfulness and sensitivity. I loved how the clients got into it. Most of us found the process to have a deep and meditative quality, one person said it was a lot like qigong! Some of the clients carved beautiful figures, like owls or crosses, and spirals. I made a smaller and smoother version of the same shape of what I started with.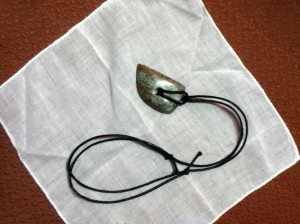 It was a very good day, and as a true addict – I want to do it again!